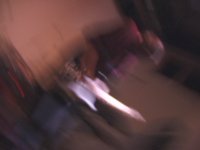 TKP is the umbrella name for the sonic projects of DL. By vocation an electrical engineer, specializing in urban transportation systems, safety analysis, systems integration, and electromagnetic interference and compatibility (EMI/EMC), and a staunch DIY advocate, DL established Zenflesh Records and Studio Amduscias properly in 1996 in order to work outside the music industry juggernaut. DL has spent 15 years on the periphery of the music industry - as music director for a cutting edge college radio station, as well as involvement in management, booking, touring, recording, live sound, promotions, design, and retail (and spending way too much time in record stores, where all his friends seem to work.) Additionally, he just concluded a year of donated time as project manager & lead software developer, spearheading a drive for free, feature-rich, and easy to use e-commerce software.

Taking cues from the mood music of Eno & early Tangerine Dream; the feedback of Lou Reed's Metal Machine Music; ideas from the Theatre of Eternal Music on the nature of composition and improvisation, and of drone and time; The Residents' Theory of Anonymity; the lo-fi aesthetics of K Records and bedroom-recording; the ethics of The Fall's "Repitition, Repitition, Repitition" and Spacemen 3's "3 chords good, 2 chords better, 1 chord best"; and the ideals of early post-industrialists & isolationists (Nurse With Wound, Lustmord, Hafler Trio, TAGC, etc; Main, Koner, Spectrum, etc) - and then jettisoning synthesizers & electronics (until recently), to shun the then-rampant art of knob-twiddling in the noise/experimental community, in favor of a direct, visual, and tactile use of the traditional rock axes, the electric guitar and electric bass - all put through the blender of a mind and a 4-track tape to create a unique, free & noisy, hypnotic, distorted, oblique & impenetrable atmosphere.

TKP's music (live or recorded) is at various times:
- a sonic architecture
- a phychoaccoustic laboratory
- a meme machine
- a signal to noise ratio measurement
- a thought experiment
- a third mind
- an ambient field
- a stimulus for concentration
- a catalyst for change
- an installation
- a viral structure
- an abreaction
- a blank slate
- a pulse
- a constellation
- an autistic shuffle
- a subliminal ("below the threshold of conscious perception"; "inadequate to produce conscious awareness but able to evoke a response")


Most of DL's non-copious spare-time is spent contemplating language & wordplay, viruses, the linguistic structure of magic, paradoxes, memes, cellular automata, computer security and privacy issues, signal processing, and information systems. Increasingly, his recent ruminations have been on issues of copyright, intellectual property, file-sharing, and the Digital Millenium Copyright Act.